About MATT MENDELSOHN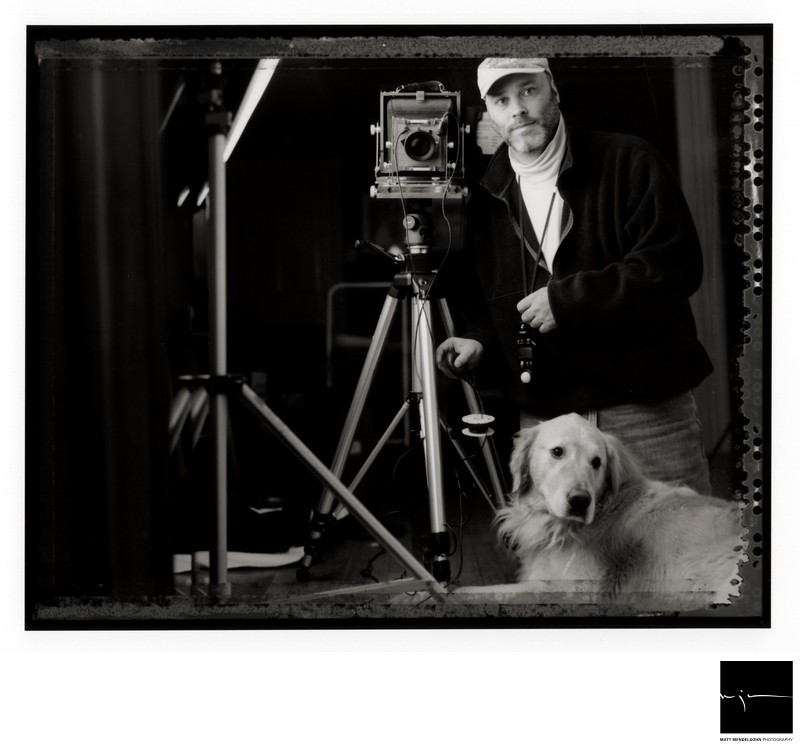 Matt and Cooper


I've been a photographer for 21 years, though my passion for photography started long before even then. Back in Mattlin Junior High School, in Plainview, New York, I vividly remember seeing an image come up on a piece of paper floating in a tray of liquid. The rest, as they say, is history.
Taking far too many pictures and accumulating far too few academic credits, I shot my way through my college years at the State University of New York in Binghamton, in the early Eighties. Though I received a B.A. in English Literature, I was known around school as the guy with the camera (and also known for setting a SUNY-B record for failing Chaucer four consecutive times.)
I began my career at the Binghamton Press and Sun Bulletin, and quickly moved on to USA Today, the nation's newspaper, for what was supposed to be a five-month stint. But I stuck around Washington, D.C., becoming a photo editor and photographer at United Press International.
During my time at UPI, I covered the White House, the Gulf War, the invasion of Panama, and countless professional sporting events. In 1990, I moved to California to take over the Los Angeles bureau. While in Los Angeles, I covered the Rodney King beating trial, the Academy Awards and far too many USC football games. In fact, I sometimes hear the school's march in my nightmares.
After moving back to the East Coast, I became the photo editor of the news section of USA Today and eventually the director of photography at USA Weekend, a Sunday magazine with a circulation of 27 million weekly.
Outside of the news business, I'm hard at work shooting weddings, portraits and commercial projects. Photo District News included my work in its "15 hottest wedding portfolios in America" issue and Washingtonian Magazine described my portraits as "a breed apart."
Lately, my work documenting high school seniors during the pandemic has been featured in local and national news outlets. You can see the latest coverage in the CBS Evening News, The Today Show, ABC News, Washington Post, NBC News 4, WUSA 9 and Arlington Magazine.
Matt is a photographer and writer from Arlington, Virginia. After a fifteen-year career at United Press International and USA Today, he now is the founder of Matt Mendelsohn Creative. When he's not shooting, Matt writes humor pieces for publications like the New York Times, the Washington Post and the Huffington Post.
PROUST QUESTIONNAIRE

What is your idea of perfect happiness?
Watching my daughter run through a park in Paris. Eating steak frites in Paris. Going to Angelina for hot chocolate in Paris. Watching people in the Luxembourg Gardens in Paris. Notice a theme?

Which living person do you most admire?
Ennio Morricone, who composed some of the most beautiful film scores in the history of the movies. Especially the soundtrack to Cinema Paradiso.

What is the trait you most deplore in yourself?
Anxiety.

What is the trait you most deplore in others?
People who drive past a mile of cars waiting to get onto a freeway and then try and cut in at the head of the line. Don't get me started.

What is your greatest extravagance?
Sometime after midnight, when I'm driving home from an event, I'll usually stop at a 7-11 and get a Yoo-Hoo!

When and where were you the happiest?
I think I was happiest on my honeymoon. My wife, Maya and I went to Spain and Morocco. We ate amazing food, stayed in ancient hotels, even bathed in ancient baths. It was incredible.

If you could change one thing about yourself what would it be?
My incredible dislike (note I didn't use the word "fear") of flying. Runner-up: My incredible dislike of driving over the Bay Bridge.

What do you consider your greatest achievement? Teaching my then-four-year-old daughter, Alexandra, all the words to Bruce Springsteen's Thunder Road.

If you died and came back as a person or thing who do you think it would be?
Easy. A composer. The ability to create a symphony in one's head, with only, perhaps, a piano keyboard to bang ideas out on, is beyond comprehension to me. Salieri was jealous of Mozart? I'm jealous of them all.

What is your most treasured possession?
A paperback copy of "Look Homeward, Angel," by Thomas Wolfe. John Hagan, my lit professor in 1980, opened a whole world to me when he taught that one book. Also my New York Mets scrapbook from 1973.

Who are your heroes in real life?
James Nachtwey, who approaches photojournalism the way a buddhist monk might approach his life. And Charlie Chaplin, who everyone thinks of as the first great film comic. But his movies, particularly City Lights, make me cry every time.

How would you like to die?
When I don't know about it.

What is your motto?
"Never get off the boat," from the tiger hunting scene in Apocalypse Now. A close runner-up would be the photographer's creed: "It's always easier to say I'm sorry than to ask permission."